Nice article in the latest issue of the Croatian magazine TechnoEko (July-August 2021) about the power of the Paddle Depacker and promising results in creating the cleanest organic output that complies to latest European legislation. Croatian: read article online or download article as pdf. English: read the complete article below.
The Power of the Paddle Depacker
Solution to the challenges of bio-waste management with smart technology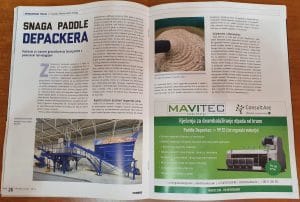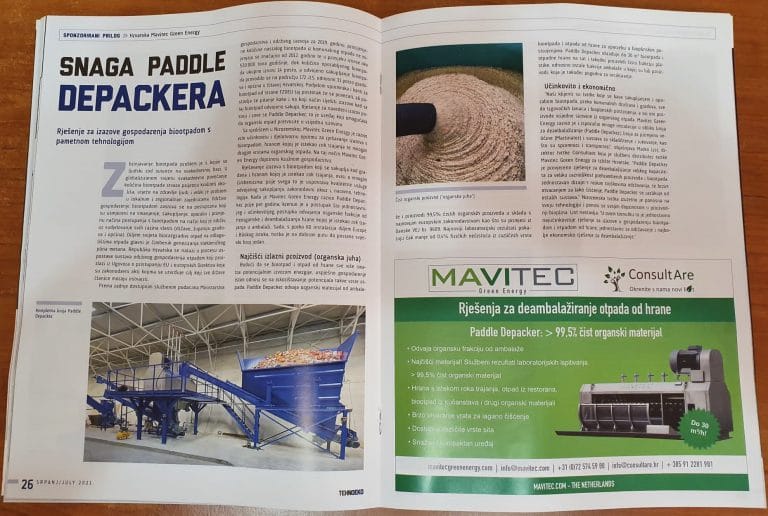 Disposal of bio-waste is a problem that the human race faces on a daily basis. In a globalized world, the daily increase the amount of bio-waste poses a threat to the quality of the environment, affects human health and is a major problem in local and regional communities. Sustainable bio-waste management is based on procedures aimed at reducing, collecting, recovering, and applying bio-waste management in a sustainable way, with the participation of all levels of public authority (states, counties, cities and municipalities). Worldwide, biodegradable waste in landfills is a major factor of making in greenhouse gas methane.
The Republic of Croatia is in the process of establishing a system of sustainable waste management arising from the Treaty of Accession to the EU and European Directives, which are legislative acts that determine the goal that all Member States must achieve. According to the latest available official data from the Ministry of Economy and Sustainable Development for 2019, the estimated quantities of generated biowaste from municipal waste have not changed significantly since 2012 and average about 530,000 tons per year, while the amount of recovered bio-waste is 14%. Separate collection of biowaste was carried out in the area of ​​172 local self-government units, 31% of cities and municipalities in the whole of Croatia. The distribution of containers and bins for bio-waste by the FZOEU will increase this percentage, but the question arises how to solve the challenges when this bio-waste is collected separately. The solution to this challenge exists and is called Paddle Depacker, it is a device that allows you to turn organic waste into valuable raw material.
Based in the Netherlands, Mavitec Green Energy has developed highly efficient and effective equipment to address the challenge of bio-waste, expired food, and many other types of organic waste, and in this way Mavitec Green Energy contributes to the circular economy. Addressing the challenges with bio-waste collected from citizens and expired food depends on many factors; above all it is the establishment of a quality separate collection service, a legislative framework and, of course, technology. When Mavitec Green Energy developed the Paddle Depacker five years ago, it embarked on the simplest and most efficient process of separating the organic fraction of bio-waste from inorganic and unpacking food that has expired. Now, with over 60 installations across Europe and the Middle East, the company is well on its way to becoming world number one.
The purest output (organic soup)
As bio-waste and food waste are increasingly considered a potential source of energy, their successful management refers to exploiting the potential of this type of waste. Paddle Depacker separates organic material from packaging and produces 99.5% of pure organic products in accordance with the latest European legislation such as the examples from Denmark VEJ no. 9609. The latest laboratory results show even less than 0.4% of physical impurities from various types of bio-waste and food waste for use in biogas plants. Paddle Depacker processes up to 30 m³ of bio-waste and food waste per hour and also produces a clean fraction of plastic, or other fraction of the packaging in which the products were.
Efficient and economical
Our clients are companies that collect and recover bio-waste, through utilities and cities, all the way to retail chains and biogas plants, and they all produce valuable products from organic waste. "Mavitec Green Energy has developed and delivered many installations in the form of unpacking lines (Paddle Depacker), resizing lines (Martinater) and storage and handling systems, such as tanks and conveyors," explains Marko List, CEO of Consultare, which is the official distributor of Mavitec Green Energy for the Croatian market. "Paddle Depacker is a proven high-capacity unpacking solution for a wide variety of food products and bio-waste. Simple design with low maintenance costs, and quick opening for easy cleaning, the Paddle Depacker is different from other systems. "The Dutch company is extremely proud of its technology and its contribution to biogas production. List continues:" At the moment, it is simply the most efficient solution to the challenges of bio-waste and food waste management, easy to maintain and the best economic solution for unpacking.
Wide selection of organic waste
Paddle Depacker has been intensively tested on a wide range of organic and packaging materials where it has achieved excellent results. The list of products that can be processed and is constantly increasing and includes the return of goods from the supermarket, dairy products, chocolate, cookies, chips, bread, sauces and canned products such as fish, meat, vegetables and beverages. Organic waste collection and recovery companies, as well as owners of biogas plants, are focused on finding a device that is easy to use to unpack organic material with which to produce organic "soup" raw material for biogas plants from which to produce electricity and heat. The first Paddle Depacker was recently installed and put into operation by our client OPG Vrček near Varaždin, which has a biogas plant and which, among other things, recovers bio-waste, and which unfortunately due to lack of awareness and negligence of citizens contains largely other types of waste, but that's not a problem for Paddle Depacker, quite the opposite. Through the investment in Paddle Depacker, opportunities have opened up for unpacking new types of organic waste from the food industry, such as: biscuits, puddings, yogurts, ready-made soups, spreads, etc.
Development and innovation
Mavitec is constantly improving its solutions to achieve optimal performance and the best possible results. Plastic bags are not a problem either. The risk of wrapping around a rotating shaft is a common problem, but Mavitec has recently managed to improve its technology, and solve this problem as well. "So give us big bags of bio-waste"! It is the power of Paddle Depacker, a device for processing all types of food waste, bio-waste, fruits and vegetables, etc. Mavitec is always working on new innovations and is constantly improving the operation of the device. At its Dutch headquarters, Mavitec engineers work on a variety of smart solutions. The main challenge for the coming years is to focus on optimizing the quality of packaging to make it suitable for further recycling, but also to obtain all the organic ingredients from the packaging. The first test machine in combination with Mavitec's proven press press will be tested on a complete solution.
Mavitec has recently expanded its service team to better serve its current and future customers. What is Mavitec's ambition? Become the world's leading company in unpacking and enable any bio-waste management company to purchase Paddle Depacker, to make a profit, reduce costs and optimize their biodegradable waste business. Do you want to turn your food waste into the purest organic product and create green energy from it? Contact our partners in Croatia at info@consultare.hr or contact us directly at sales@mavitec.com Find out more at: www.consultare.hr or at www.mavitecgreenenergy.com